Immediate implant replacement after Partial explantation of malpositioned dental implant: Case report and follow-up
Abstract
Aim It is not common to report in the literature about complications during intraoral dental implant removal and its immediate approach during implant surgery. This report describes the approach of an intraoperative accident during an explantation and its follow up.
Case report In this case, an immediate implant was placed in the presence of an implant remnant left after its partial explantation due to implant fracture during the procedure. A cone-beam CT scan was taken after six months post rehabilitation and revealed bone formation surrounding the replaced implant and the remaining titanium fragment.
Results There were no functional or aesthetic alterations that affected the outcome of the treatment after 2 years of follow-up.
Conclusions This satisfactory result suggests that this immediate solution can be used to obtain adequate results when failed dental implants cannot be completely eliminated, which reduces the duration of the treatment and the number of surgical procedures.
Downloads
Download data is not yet available.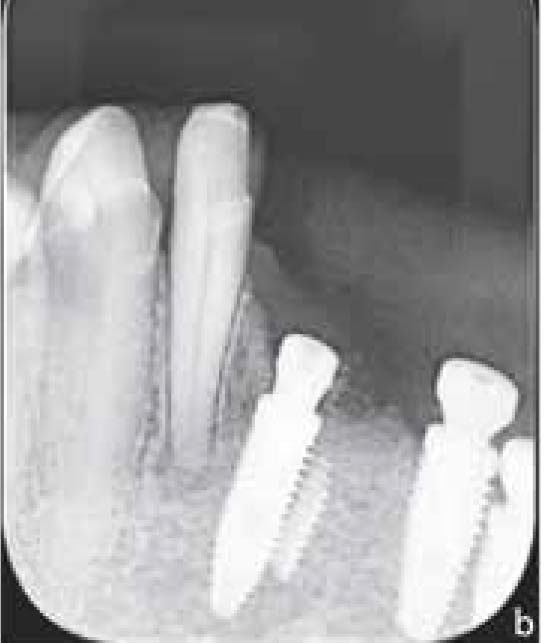 Keywords
dental implants, intraoperative complications, dental implantation, complications.
Statistics
Abstract views: 738

pdf: 290

Share it
PlumX Metrics
PlumX Metrics provide insights into the ways people interact with individual pieces of research output (articles, conference proceedings, book chapters, and many more) in the online environment. Examples include, when research is mentioned in the news or is tweeted about. Collectively known as PlumX Metrics, these metrics are divided into five categories to help make sense of the huge amounts of data involved and to enable analysis by comparing like with like.
How to Cite
Guerrero, M., Espinoza, D., & Cáceres, O. (2019). Immediate implant replacement after Partial explantation of malpositioned dental implant: Case report and follow-up. Journal of Osseointegration, 11(4), 540-543. https://doi.org/10.23805/JO.2019.11.03.13
This work is licensed under a Creative Commons Attribution-NonCommercial 4.0 International License.
PAGEPress has chosen to apply the Creative Commons Attribution NonCommercial 4.0 International License (CC BY-NC 4.0) to all manuscripts to be published.