Impact of crown-to-implant ratio of marginal bone loss around implant-supported single crowns. A 5 years retrospective study
B. B. Stoichkov | 2bsurgery@gmail.com

DDS, PhD - Assistant professor, Dep. of Oral & Maxillofacial Surgery, Faculty of Dental Medicine, Medical University - Sofia, Bulgaria.

https://orcid.org/0000-0002-0339-1866

D. N. Kirov

DDS, PhD - Assistant Professor,  Department of Prosthetic Dentistry, Faculty of Dental Medicine, Medical University, Sofia, Bulgaria, Bulgaria.

https://orcid.org/0000-0002-0339-1866
Abstract
Aim The success of implant-supported restorations depends on the stability of osseointegration and the amount of bone-to-implant contact. The aim of the present study is to assess the influence of the crown-to-implant ratio on marginal bone loss in prosthetic restorations with single implant-supported crowns.
Materials and methods Retrospectively, 65 patients with one missing tooth in the mandibular molar area were collected. All prosthetic restorations were made with single crowns, and all implants used were "bone level" type having a diameter in the range of 3.9 to 4.0 mm and a length of 10.0 to 13.0 mm. Cone beam computed tomography (CBCT) were performed in central occlusion. The height of restorative space was measured over the cross-sections from the level of the alveolar ridge to the corresponding antagonist crowns. Available bone height, width and length were also evaluated prior to implantation. Marginal bone loss was measured on pre-calibrated periapical radiographs, using ImageJ 1.52 (National Institutes of Health, Bethesda, Maryland, USA), in third and fifth year after the functional load.
Results Positive linear correlation, statistically significant, has been determined between the crown-to-implant ratio and the amount of crestal resorption. The highest peri-implant bone loss was  recorded in cases with crown-to-implant ratio of 1.5/1 and higher.
Conclusion The results of this study indicate that prosthetic restorations with higher crown-to-implant ratio tend to cause higher marginal bone loss than those with lower one, in the mandibular molar area.
Downloads
Download data is not yet available.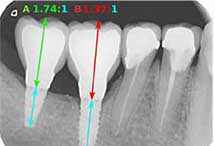 Keywords
Marginal bone loss, Crown-to-Implant Ratio, Implant-supported single crowns, Dental implants complications
Statistics
Abstract views: 64

pdf: 50

Share it
PlumX Metrics
PlumX Metrics provide insights into the ways people interact with individual pieces of research output (articles, conference proceedings, book chapters, and many more) in the online environment. Examples include, when research is mentioned in the news or is tweeted about. Collectively known as PlumX Metrics, these metrics are divided into five categories to help make sense of the huge amounts of data involved and to enable analysis by comparing like with like.
How to Cite
Stoichkov, B., & Kirov, D. (2020). Impact of crown-to-implant ratio of marginal bone loss around implant-supported single crowns. A 5 years retrospective study. Journal of Osseointegration. https://doi.org/10.23805/JO.2020.12.01.05
Copyright (c) 2020 Ariesdue
This work is licensed under a Creative Commons Attribution-NonCommercial 4.0 International License.
PAGEPress has chosen to apply the Creative Commons Attribution NonCommercial 4.0 International License (CC BY-NC 4.0) to all manuscripts to be published.